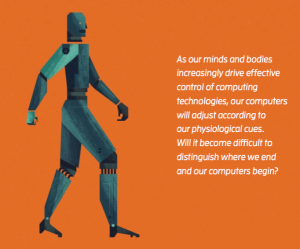 The October 2015 edition of IEEE Computer magazine is devoted to the topic of Physiological Computing.  Giulio Jacucci, myself and Erin Solovey acted as co-editors and the introduction for the magazine is available here.
The paper included in the special issue cover a range of topics, including: measurement of stress in VR, combining pupilometry with EEG to detect changes in operator workload and using mobile neuroimaging to create attention-aware technologies.
There is also a podcast associated with the SI featuring the guest editors in conversation with Robert Jacobs from Tufts University on current topics and future directions in Physiological Computing – you can hear it here.