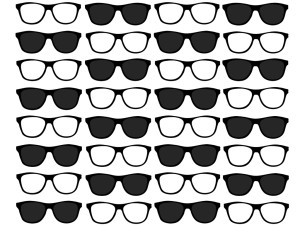 The act of paying attention or sustaining concentration is a good example of everyday cognition.  We all know the difference between an attentive state of being, when we are utterly focused and seem to absorb every 'bit' of information, and the diffuse experience of mind-wandering where consciousness flits from one random topic to the next.  Understanding this distinction is easy but the act of regulating the focus of attention can be a real challenge, especially if you didn't get enough sleep or you're not particularly interested in the task at hand.  Ironically if you are totally immersed in a task, attention is absorbed to the extent that you don't notice your clarity of focus.  At the other extreme, if you begin to day-dream, registering any awareness of your inattentive state is very unlikely.
The capacity to self-regulate attentional focus is an important skill for many people, from the executives who sit in long meetings where important decisions are made to air traffic controllers, pilots, truck drivers and other professionals for whom the ability to concentrate has real consequences for the safety of themselves and others.
Technology can play a role in developing the capacity to regulate attentional focus.  The original biocybernetic loop developed at NASA was an example of how to incorporate a neurofeedback mechanism into the cockpit in order to ensure a level of awareness that was conducive with safe performance.  There are two components within type of system: real-time analysis of brain activity as a proxy of attention and translation of these data into 'live' feedback to the user.  The availability of explicit, real-time feedback on attentional state acts as an error signal to indicate the loss of concentration.
This article will tell a tale of two cultures, an academic paper that updates biocybernetic control of attention via real-time fMRI and a kickstarter project where the loop is encapsulated within a wearable device.